Hostas-hidden old page
Daylilies   Cucumbers   Eggplants   Herbs   Melons   Peppers   Squash.Zucchini   Tomatoes   Other Veggies   Hostas   Peonies   Succulents   2021 Annuals/Perennials
Hostas Main Page
I thought it was about darn time that I updated my Hosta intro page—after all, there are now over 8000 named Hosta varieties with over 5000 of them registered! Yikes….there sure are more than the three or so varieties that many people are familiar with! They truly are a Collector's delight and I'm pretty sure I can talk just about anybody into trying a few…..and once that happens, you're hooked!
I have reluctantly made the decision to discontinue the shipping side of our business. I'm so sorry but WE WILL NO LONGER BE SHIPPING OUR HOSTAS, PEONIES, AND DAYLILIES. It has become too difficult to maintain the walk-in retail side and the mail order side, and I do not want quality and service to suffer. I unfortunately just can't do it all!!!!
One other important note: If you are coming to the farm for a particular variety, please call (815-521-9535) or email first for availability! We DO sell out, and all varities aren't ready to be adopted at the same time!)
As baby Hostas can sure look different than their adult versions, we have scads of display beds at the Farm so you can see more mature specimens and drool over them (although our biggest display bed got decimated by the awful spring flood of 2013; have no fear, we are rebuilding it!). A few, very general guidelines about Hostas:
Yes, they are shade plants, although some can grow in more sun than others! Generally, blues want more shade (or you'll end up with a green Hosta!); many varieties "color up" better with dappled or some morning sun.
The thicker the leaf, the more slug resistant they are. As we don't use chemicals here, I recommend a great product called "Escar-Go" (awesome name, right?!) that is sold by Gardens Alive.
Most Hostas don't obtain their full maturity for at least 6 years, so be patient! Let them get to their full maturity so you can see them in their full glory  before you even THINK about dividing them (which, by the way, you never actually need to do).
A fabulous way to learn more and share your passion is by joining a Hosta Society. You might want to check out these great organizations: The American Hosta Society, The Midwest Hosta Society, and The Northern Illinois Hosta Society.
An absolutely amazing resource for Hosta pictures and info is the Hosta Library.
One thing I always get asked is which ones are my faves? Now that TRULY is a hard question as I love all of my "babies", but I did complete two lists of absolute "gotta-have"
Hostas……just remember that these lists are in no way meant to limit your Hosta collection mania, and also please don't think that the ones that I didn't list aren't awesome also (I suppose that they can't all be my faves, can they…???) SOOOOO, here goes…..
This first list are "Classics" that you MAY have heard of—they're kinda like the best car EVER (a '69 Camero of course!) that you recognize, admire, and covet from afar. To me, they are truly the "bones" of a Hosta collection. As an aside, I just want to reiterate how oh so very hard it was to come up with just these……..!
This next list is of "newbies" I think you NEED! Often they are "Contrary" (of course!) and quirky—just what you need to put some vavoooom in your Collection!
The next thing I wanna talk about and highlight are Hosta flowers—didja know that many of them are FRAGRANT and gorgeous??! Wowzers…they also attract hummers as you can see by my pictures (and ya think THAT wasn't hard to get a picture of??!) Butterflies and honey bees also adore Hosta flowers, and birds eat the seeds in the winter (so yep, I leave my hostas alone in the fall and clean up in the spring). Here's a list of fragrant flowered ones we have:
Lastly, I just wanted to mention another of my passions—red legs! To me, that REALLY makes it a Hosta I can't resist! To follow are just a FEW of the ones we have with red legs: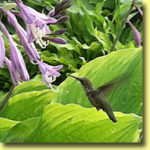 So there ya have it—some of my thoughts on Hostas! Now on to the "Stars of the Show"….the "pieces de resistance"!
A SPECIAL NOTE: AS MY HOSTAS ARE GROWN IN PROPAGATION BEDS, THEY ARE NOT ALWAYS AVAILABLE. JUST BECAUSE THEY ARE LISTED HERE, IT DOES NOT MEAN THEY ARE CURRENTLY ABLE TO BE ADOPTED (!). IF YOU ARE COMING FOR ANYTHING SPECIAL, PLEASE CALL OF EMAIL FIRST. DIGGING IS WEATHER-DEPENDENT!!!!!