Melons
Cucumbers   Eggplants   Herbs   Melons   Peppers   Squash/Zucchini   Tomatoes   Other Veggies   Succulents   Annuals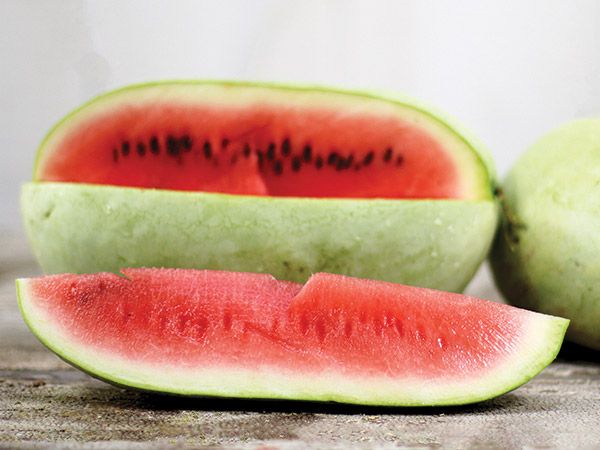 It is so very amazing to be able to grow your own melons…..as with all veggies, they taste soooooo much better when they are grown with your very own TLC! The cantaloupes are so incredibly fragrant, and will perfume your whole house with their delectable aroma, and the watermelons are a TRUE taste of summer! 'Sakata Sweet' is a fun, fun, fun little melon that should be grown by EVERYONE! Have I motivated you to try at least one or two???!
I have some growing advice also. Be VERY careful when transplanting, as they do not like their roots to be disturbed. Plant them in partial to full sun but be sure to wait until the ground is warm enough (they do NOT take kindly to cool weather, so no pushing it!). Several of my offerings grow very well in small spaces and containers; just be sure to add worm castings (have I mentioned how awesome they are???) and organic fertilizer/compost to any planting site. All melons like to have a little extra water (note I said a LITTLE, don't keep them wet), but minimize watering once they are nearing the ripening stage.
Now, a tricky part….how do you tell when they are ripe? Cuz you sure want to pick them at their peak for best taste! For cantaloupes, the first thing to notice is that the skin will start to show a "netting" pattern which will become raised and turn tannish. If you think they may be ready to pick, gently lift them and feel their heft; if they feel heavy try gently twisting. If it easily "slips" off the main vine it is ripe. Sometimes they will detach themselves. Cantaloupes will get softer once picked but not any sweeter.
Watermelons can be a wee bit less easy to tell. Once a watermelon is picked it will not continue to ripen. The first thing you can try is the "thunk" test….thump it gently and it should be a low pitched hollow sound. The blossom end will start to soften, and the curly tendrils closest to the fruit will turn brown. The melon will stop getting larger, and its belly (the field spot that is in contact with the ground) will turn a yellowish buttery color (not white).
I also love to hear how things turn out, so please let me know how they do! And pictures, you know how I adore pictures…….
---
Melon 'Ali Baba'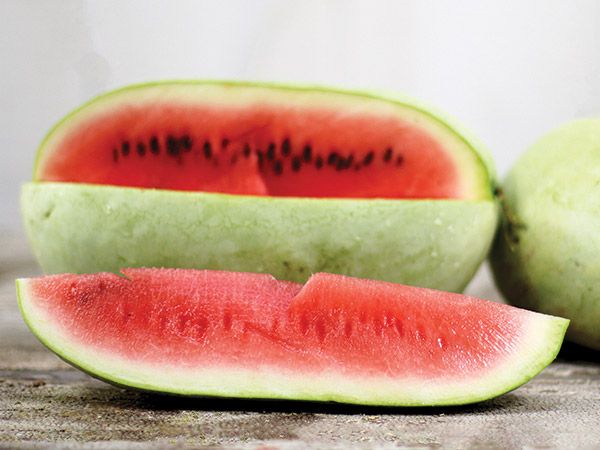 (?85 days?) A favorite of Amy Goldman (a melon and tomato guru who write FABULOUS books), this 12-25 pound watermelon from Iraq is crisp, sweet, resistant to sun scald, and all around maaaaaahvelous!
---
Melon 'Minnesota Midget'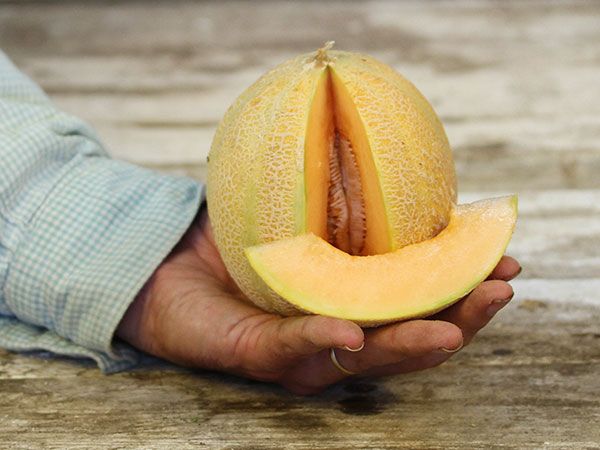 Sorry, Not Available for 2022
Photo courtesy of Baker Creek.
---
Melon 'Rich Sweetness'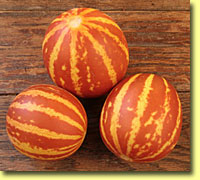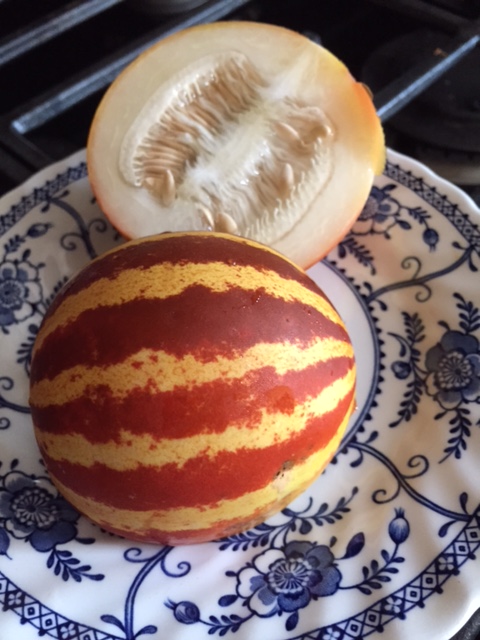 (vine – 75-80 days?? – $4.95) O.K, so I probably wouldn't try growing this in a container; however, I WILL be making room for her in my garden! This heirloom from the Soviet Union produces tons of red striped melons that weigh about ¼ lb! PERFECT for single servings, the flesh is white and very sweet (melons are very fragrant too!) What a beauty! Photo courtesy Baker Creek.
---
Melon 'Royal Golden Watermelon'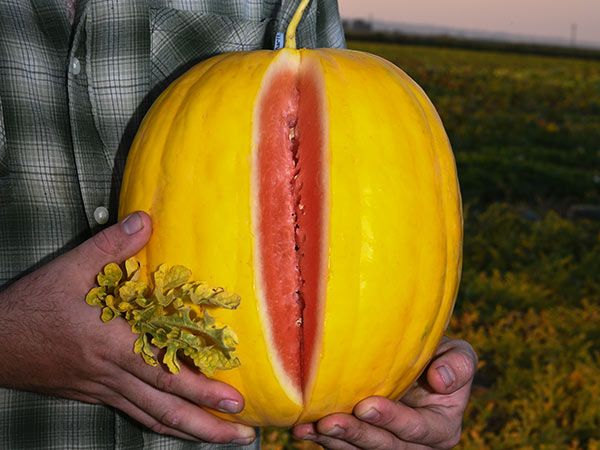 (85 days) This stunningly beautiful watermelon is easy to tell when ripe as she turns a glowing pumpkin orange! Average fruit size is about 15 lbs, but can range from 7-25 lbs. Photo courtesy of Baker Creek.
---
Melon 'Sakata's Sweet'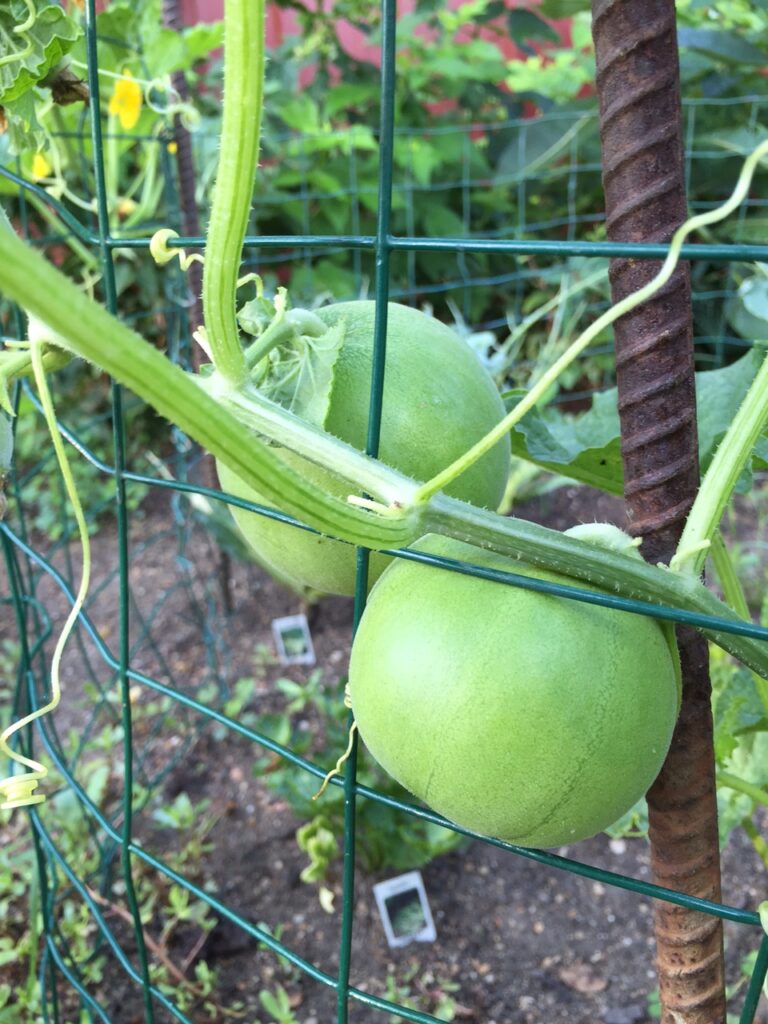 (85 days – $4.95) The Tomato Guru that I always reference, Amy Goldman, is apparently also a Melon Guru! She wrote "Melons for the Passionate Gardener" (which I guess I'm gonna HAFTA buy!), and this one is a favorite! It is an Asian variety that has EDIBLE skin! The melons are 3-4", are crispy and crunchy, and have a high sugar content (are VERY sweet!) I can hardly wait for this one!!!!
---
Melon 'Sugar Baby Bush Watermelon'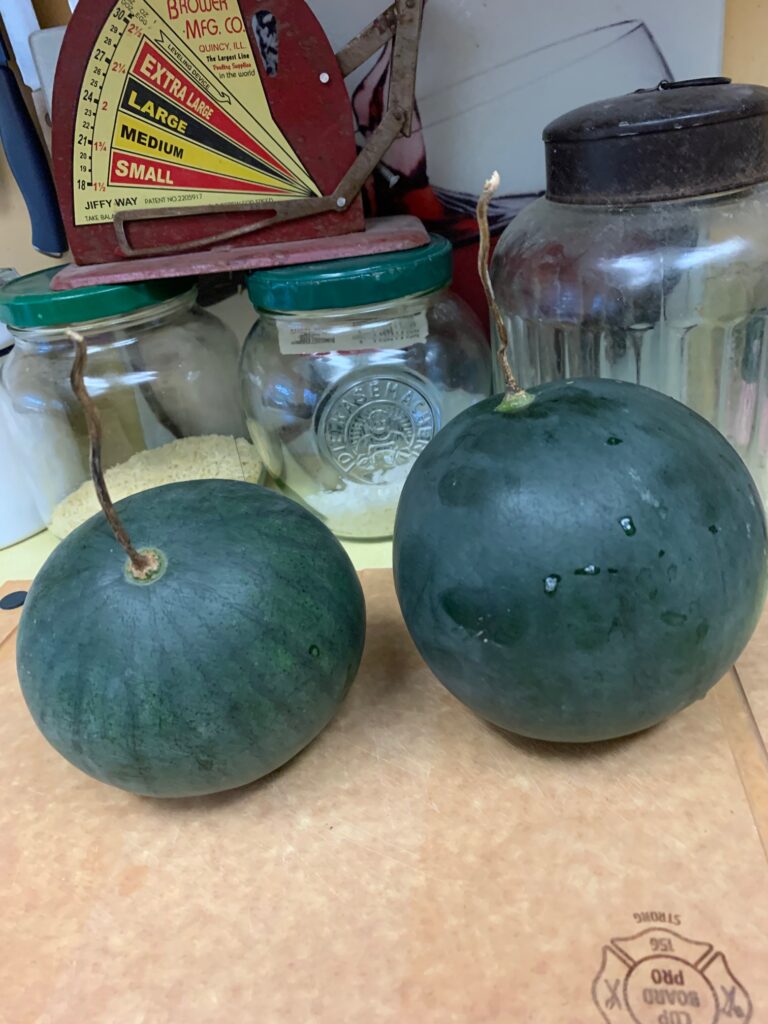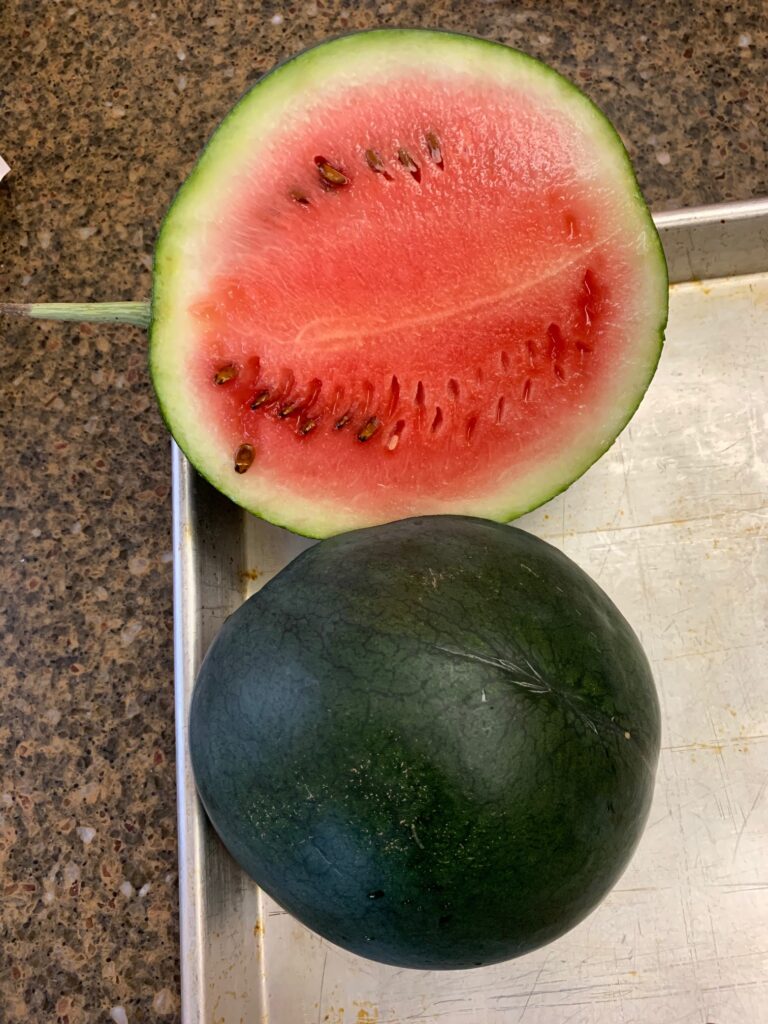 (75 days) I love this little melon! She's an early producer of 6-8 lb fruits on compact vines.
---
Melon 'Sweet Passion'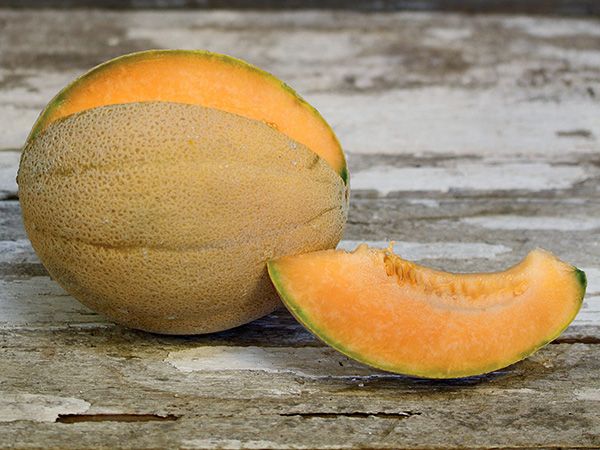 (80 days) This cantaloupe is an Ohio Heirloom and produces 3-4lbs yummy melons! Photo courtesy of Baker Creek.
---
Melon 'Tigger'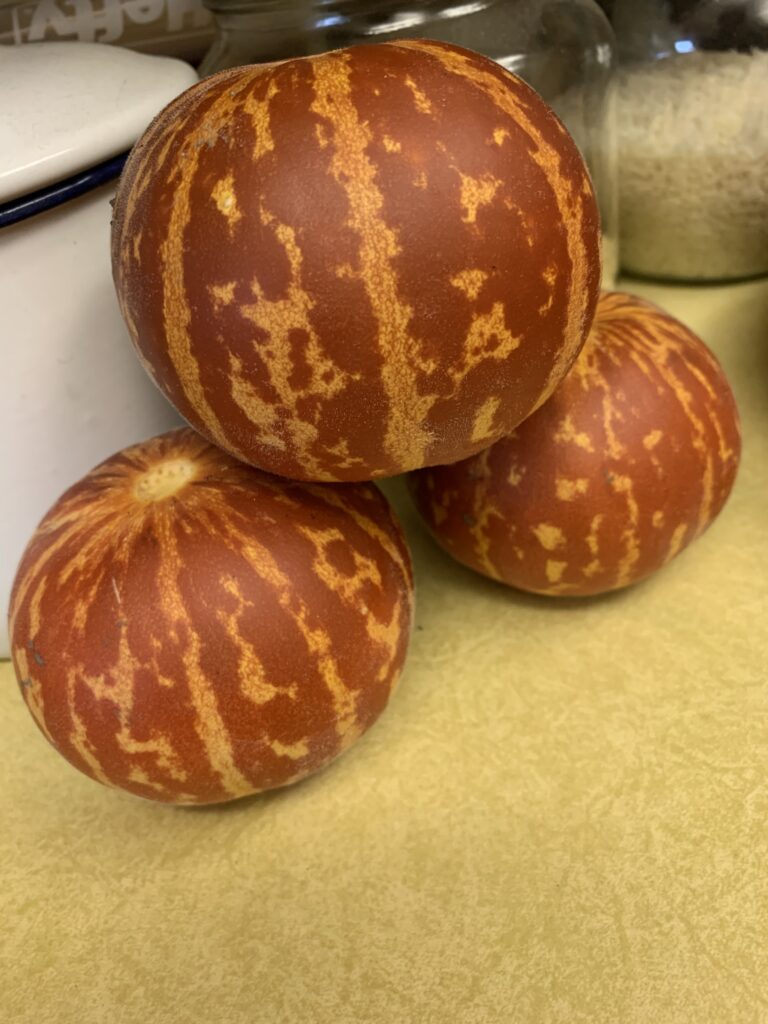 (80 days) This gorgeous and EXTREMELY fragrant melon gets about 1 lb and is as delish as it is adorable! Grows awesomely in containers!
---
Melon 'Vert Grimpant'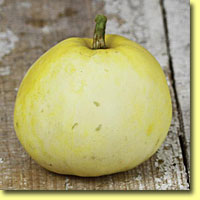 SORRY, NOT AVAILABLE FOR 2021
(Vine – $4.95)This is a French Heirloom whose name means "Green Climbing"….yes, you can grow this one on a trellis as it has rather small (1-2lb) fruits! The flesh is green, crisp and juicy; a great keeper too!