Other Heirloom Veggies
Other Heirloom Veggies
In an effort to encourage EVERYONE to try Heirlooms, I am offering the following "dibs and dabs" to try….most can be grown in containers (no excuses that you don't have the room!). I'll be trying them myself, so make sure to touch base and let me know what you think and what interesting things you've thought to do with them! They all sound extremely intriguing, so what's to lose??!
Cucumbers & Squash
We have some delicious (and often adorable) cucumbers, plus a few squash, this year! I've been trellising mine against the house and they really grow great (and take up lots less space too!) I've even tried a few in containers which worked reasonably well. Go ahead and experiment!
Cucumber 'Armenian'
(AKA Snake Melon)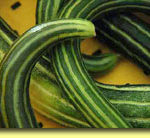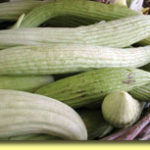 Vining 4″ Pot (50-70 days) This striking Eastern European heirloom produces distinctive light green fruits best eaten when 12-18" long; tender and yummy! Botanically it is a melon but it tastes tender and crisp and like a cucumber! When trellised it will grow straight, otherwise it will curl.
Cucumber 'Diva'
Vining 4″ Pot (58 days) This hybrid was the 2002 AAS winner, so ya know it's awesome! A quintessential seedless and burpless cuke, they are best harvested at 4-8". Ideal fresh eater/slicer! (photo courtesy Totally Tomatoes)
Cucumber 'Dragon's Egg'
Vining 4″ Pot Doesn't this just SOUND like a Contrary veggie?! A unique AND yummy cuke that kids will ADORE, it is creamy white and the size of a large egg—sweet tasting and mild! An heirloom from Croatia, and VERY limited! (photo courtesy Baker Creek)
Cucumber 'Early Spring Burpless'
Vining 4″ Pot (58 days) A delicious hybrid with 10-12" burpless, bitter-free fruits; no need to even peel! Early and a heavy yielder. (photo courtesy Totally Tomatoes)
Cucumber 'Miniature White'
Bush-Like various (50 days) An EXCELLENT bush-type baby cuke, adorable and delicious! Great as a pickler or fresh eater, very productive, and can even be grown in containers! Did I mention how cute it is too?! (photo courtesy Baker Creek)
Cucumber 'Muncher'
Vining Various (60 days) A Burpless tender variety that you can pickle with (pick when 4-6" long) or us as a fresh eater (pick at 6-8" long). Great producer, non-bitter! (photo courtesy Baker Creek)
Cucumber 'Sikkim' 
Vining 3.5″ Pot Geography lesson—do ya know where Sikkim is?! I didn't, but do now; it is on the slopes of the Himalayas, between India and Tibet. This odd creature was first discovered in 1848 by Sir Joseph Hooker (you know, the English Botanist!). This one can reach several pounds in size, and is a pretty rusty red. It is great eaten raw OR cooked (yes, in Asia cukes are often stir fried….try it, ya know I will!) VERY unique and a conversation starter; as yummy as it is weird looking! (photo courtesy Baker Creek)
Cucumber 'Snow's Fancy Pickling' 
Vining 3 1/2″ Pot (55 days) This one is actually from the Famous Snow Pickle Farm in Rockford, Illinois! (o.k., so it WAS famous in 1905!) Produces longish skinny fruits (5" x 1½"), thin fleshed and crunchy.
Cucumber 'Suyo Long'
Vining Various (65 days) This is hands-down my absolute FAVORITE cuke EVER! Produces long skinny fruits in abundance that have a very rich taste (no blandness or bitterness!). I would advise peeling them as they have lots of spiny bumps, but you will thank me for recommending this one!
Extra Dwarf Pak Choy                     
(dwarf – $4.25)I'm not sure exactly what the difference is between "Pak Choy" and "Bok Choy", but suffice to say this tiny baby is delicious and adorable! Pick it when just a few inches tall, and use whole in salads or stir fries. Tender, delicious, and enjoys cooler weather!
Eggplant 'Casper'
(24" ht – 75 days – $4.25) A beautiful AND  tasty Eggplant, this one has medium sized ghostly-white fruit in abundance! (photo courtesy Baker Creek)
Eggplant 'Japanese White Egg'
(24" ht – 65 days – $4.25) A word about eggplants….the plants themselves are VERY ornamental, having velvety foliage and showy purplish-white blooms. That being said, this one is doubly adorable as it produces 2-3" round white fruits that are rich and not at all bitter! Pick them before they turn yellow; heavy yielders! (photo courtesy Baker Creek)
Eggplant 'Rosa Bianca'
 (24" ht – 80 days – $4.25) I can be a tad obsessive, and after discovering Ratatouille last year (I know, where have I been??!) I figured this would be perfect for it! Beautiful marbled pink/violet and white fruits are produced in   abundance; described as "creamy" and holding up very well on the grill (doesn't fall apart!) A real gourmet treat! (photo courtesy Baker Creek)
Eggplant 'Ronde de Valence'
(24" ht – 80 days – $4.25) A French heirloom that is mandatory for ratatouille! Also great for stuffing, this one has nearly round deep purple fruits the size of grapefruits. I can hardly wait! (photo courtesy Baker Creek)
Eggplant 'Thai Lavender Frog Eggs'
(24" ht – 80 days – $4.25) So hold up your hand if you are surprised that Contrary Mary would grow this one….bet no one's hand is up, right?! How could you resist this darling that bears fruit the size of cherry tomatoes that is lavender and cream. Very high producer too! Even if you don't like eggplant this one needs to be in a pot on your patio! (photo courtesy Baker Creek)
Eggplant 'Violette Longue Hative'
(30" ht – 65-70 days? – $4.25) This is the Historic Eggplant grown in France and Europe since at least 1880! "Early Long Purple" produces elongated fruits, pretty and delicious!
Melon 'Rich Sweetness'
(vine – 75-80 days?? – $4.25) O.K, so I probably wouldn't try growing this in a container; however, I WILL be making room for her in my garden! This heirloom from the Soviet Union produces tons of red striped melons that weigh about ¼ lb! PERFECT for single servings, the flesh is white and very sweet (melons are very fragrant too!) What a beauty! (photo courtesy Baker Creek)
Melon 'Sakata's Sweet'
(85 days – $4.25) The Tomato Guru that I always reference, Amy Goldman, is apparently also a Melon Guru! She wrote "Melons for the Passionate Gardener" (which I guess I'm gonna HAFTA buy!), and this one is a favorite! It is an Asian variety that has EDIBLE skin! The melons are 3-4", are crispy and crunchy, and have a high sugar content (are VERY sweet!) I can hardly wait for this one!!!!
Melon 'Vert Grimpant'
(vine – $4.25)This is a French Heirloom whose name means "Green Climbing"….yes, you can grow this one on a trellis as it has rather small (1-2lb) fruits! The flesh is green, crisp and juicy; a great keeper too!
Squash 'Crookneck Early Golden Summer' 
Vining Various 50 days) This is one of the oldest Heirloom Squash, from pre-Columbus times, so ya KNOW how great this one is! Prolific and yummy and VERY good for you! (photo courtesy Baker Creek)
Squash 'Patisson Panache Jaune Et Vert Scallop'
Vining Carious (55 days) Whew, what a name! Anyway, this is an outstanding French scalloped squash that is beautifully striped (as it gets older). Delish eaten as a summer squash, or left on to mature and be baked in the fall! (photo courtesy Baker Creek)
Zucchini 'Costata Romanesco'
Vining 3 1/2 " Pot (52 days) This is the famous ribbed Italian Zucchini! Great gourmet variety (it is scalloped when sliced), and perfect for cooking whole when small! Harvest early and often!! (photo courtesy Baker Creek)
Zucchini 'Golden'
Vining Various (55 days) I do believe that this one is my favorite zucchini…..it has long, slender, beautiful bright golden fruits in abundance on a smaller, compact plant…..mine were always yummy! Great in a mix with green or round ones!
Zucchini 'Lungo Bianco' 
Bush-Like Various (60 days) a bush type zucchini that won't take nearly the amount of space, this one has mild and sweet light green fruits! (photo courtesy Baker Creek)
Zucchini 'Striate d' Italia'
Vining Various (50 days) A very early Italian zucchini that got great reviews! It produces 8-9" striped light and dark green fruits that are adored in Italy. (photo courtesy Baker Creek)